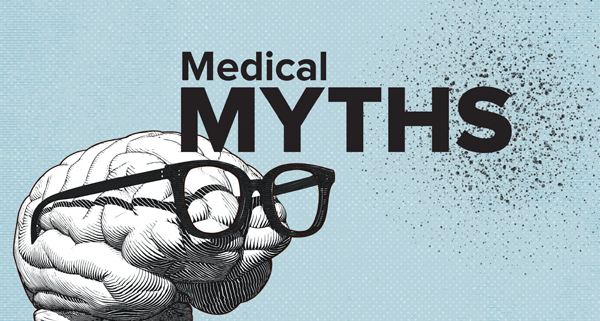 "COLD WEATHER MAKES YOU SICK"
Incorrect! Going outside in the wintertime—whether you're wearing a scarf or have wet hair—isn't what raises your risk for illness. Seasonal circulation of certain illnesses, particularly Influenza, and the indoor gathering of crowds due to uncomfortable outdoor conditions are what drives the numbers of cold weather illness up. Any increased stress on your body, like exhaustion, underlying illness, or pregnancy, can also intensify your risk for illness.
"YOU NEED TO DRINK 8 GLASSES OF WATER EVERY DAY"
Not necessarily. Certain drinks actually dehydrate us. Caffeine (in soda and coffee) and alcohol shouldn't count toward the total number of ounces of water per day since their chemical components actually encourage the body to lose water. More active individuals, like athletes, will likely need to step up their hydration. Children's requirements are lower than adults due to smaller body size overall.
"WE ONLY USE 10% OF OUR BRAINS"
Untrue! Metabolic studies tracking the brain's utilization of fuel reveal no dormant areas. Functional MRI testing has failed to demonstrate the latent 90% of unutilized gray matter.
"YOU CAN'T GET PREGNANT WHILE ON YOUR PERIOD"
You can! Every woman's cycle is different, and even for each individual, it can vary from month to month. Any incidence of unprotected sexual activity can result in a pregnancy. The "rhythm method" used by some couples to avoid getting pregnant during a woman's most fertile time of her cycle is incredibly unreliable.
"READING IN LOW LIGHT RUINS YOUR EYESIGHT"
Nope. While trying to use your eyes in an environment with insufficient light can cause muscle strain from squinting, and infrequent blinking that can dry out the eyes, ophthalmologists generally agree that these are not lasting effects.
"PLUCKING OUT ONE GRAY HAIR WILL CAUSE MANY MORE TO GROW"
False. Action taken on one hair follicle effects only that one hair follicle. Hair cells are not vengeful nor are they vindictive, so while it might feel like it's the plucking of the hair that prompts more of them to arrive, it's more likely just the probability of a person with one gray hair growing other gray hairs.
"EAR INFECTIONS ARE CONTAGIOUS"
They are not. All of the "holes" in your head drain into the back of your nose and throat. That means the sinuses, eyes (through the tear ducts), and ears (through the Eustachian tubes) all provide a path for nasal congestion to drain. When the nose is stuffy, though, it interrupts this drainage and allows fluid to back up into the sinuses, eyes, and ears. Standing fluid tends to get infected (picture a fish tank without a filter) and fluid stuck behind the ear drum is no exception. So while ear infections themselves can't be passed from one person to another, the cold that caused the congestion that triggered the ear infection can.
"HOLDING IN A SNEEZE IS BAD FOR YOU"
This one is true! The amount of pressure that is built up in the lungs in preparation for a sneeze is significant. Sneezed air and respiratory droplets can travel up to 100 miles an hour! That pressure has to go somewhere, and contained sneezes not only risk damage to the blood vessels of the nose, throat, and brain, but also can potentially cause hearing loss.
---
From UH Pediatrician and PSI Medical Expert – Dr. Carly Wilbur.
Click here for more great insights from Dr. Wilbur.
Find out how PSI makes health a priority every day.
/wp-content/uploads/MedicalMyths.png
400
600
Greg Dzuris
/wp-content/uploads/2018/02/psi-logo-lg.png
Greg Dzuris
2023-01-25 16:10:38
2023-02-01 23:46:14
Debunking Medical Myths