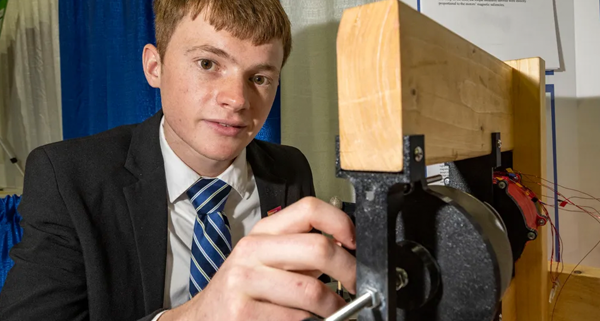 Robert Sansone's research could pave the way for the sustainable manufacturing of electric vehicles that do not require rare-earth magnets – and he's only 17 years old!
Robert Sansone is a natural born engineer. From animatronic hands to high-speed running boots and a go-kart that can reach speeds of more than 70 miles per hour, the Fort Pierce, Florida-based inventor estimates he's completed at least 60 engineering projects in his spare time. And he's only 17 years old.
A couple years ago, Sansone came across a video about the advantages and disadvantages of electric cars. The video explained that most electric car motors require magnets made from rare-earth elements, which can be costly, both financially and environmentally, to extract. The rare-earth materials needed can cost hundreds of dollars per kilogram. In comparison, copper is worth $7.83 per kilogram.
"I have a natural interest in electric motors," says Sansone, who had used them in different robotics projects. "With that sustainability issue, I wanted to tackle it, and try and design a different motor."
The highschooler had heard of a type of electric motor—the synchronous reluctance motor—that doesn't use these rare-earth materials. This kind of motor is currently used for pumps and fans, but it isn't powerful enough by itself to be used in an electric vehicle. So, Sansone started brainstorming ways he could improve its performance.
Over the course of a year, Sansone created a prototype of a novel synchronous reluctance motor that had greater rotational force—or torque—and efficiency than existing ones. The prototype was made from 3-D printed plastic, copper wires and a steel rotor and tested using a variety of meters to measure power and a laser tachometer to determine the motor's rotational speed. His work earned him first prize, and $75,000 in winnings, at this year's Regeneron International Science and Engineering Fair (ISEF), the largest international high school STEM competition.
---
Click here for the full article from Smithsonian Magazine.
Find out how PSI is bringing STEM to summer classrooms everywhere!
/wp-content/uploads/Sansone.png
400
600
Greg Dzuris
/wp-content/uploads/2018/02/psi-logo-lg.png
Greg Dzuris
2023-01-26 02:33:37
2023-01-26 02:33:37
Teen Invents World's First Sustainable EV Motor