Meet PSI Expert Dr. Scott Poland
INTERNATIONAL EXPERT ON SCHOOL VIOLENCE, crisis intervention, suicide and school climate, Dr. Poland is a PSI consultant. Since 2005 he's has been on the psychology faculty of NOVA Southeastern University in Fort Lauderdale, Florida, the eighth largest private university in the nation. Dr. Poland has lectured and written extensively on the subject, having been quoted in such publications as Time, Newsweek, The Washington Post, The New York Times, The Los Angeles Times among many others.
He has also made appearances on the Today Show, Good Morning America, 360 Gordon Cooper, MSNBC and CNN.
PSI Trainer Dr. Scott Poland, testifies to United States House of Representatives Committee on Education & Labor. View the official transcript…
Strengthening School Safety through Prevention of Bullying
PREVENTING VIOLENCE SAVES LIVES
Dr Poland helps train PSI staff to conduct school safety audits, crisis management and crisis intervention planning and response.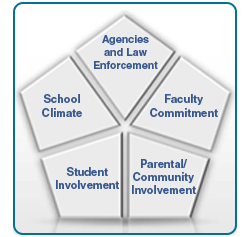 Dr. Poland, whose experience includes over 25 years as a school psychologist, offers many important publications, presentations and workshops to train and motivate your staff for interventions concerning at-risk students. He has given over 1,000 presentations in every state and over a dozen foreign countries on this urgent issue. His crisis writings have been translated into six languages. Dr. Poland has also conducted a Congressional Briefing on Reducing Bullying in Schools.
School safety is of paramount concern for all educators. The factors to act upon, Dr. Poland suggests, can be seen in the pentagon illustration.School climate, student involvement, committed faculty, an active community, collaboration between school and community, and participation of legal agencies and law enforcement will help greatly in alleviating problems. When these five areas work together a single, powerful unit emerges for the growth and success of all.
Dr. Poland believes that reducing bullying so that children can concentrate on learning is the responsibility of every educator.
TOPICS THE PROFESSIONAL WILL LEARN
Managing traumatic events: Step-by-step interventions for managing the waves that descend upon a school
Ways to build resiliency in children
Organizing school crisis teams: Strategies for the immediate aftermath and long term follow-up
Innovative approaches to preventing youth suicide
Strategies to reduce suicide contagion
A theoretical model to organize all crisis planning
Assisting children, schools and families after disasters
Accessing national resources for crisis intervention
Legal issues surrounding school crisis
PSI PREVENTION & INTERVENTION PROGRAMS FOR STUDENTS:
Life Skills Training: Laying the foundation for students to succeed
REACT: Managing Anger and Conflict Successfully
Aggressors, Victims and Bystanders: Bullying is no longer cool!
Teens Resisting Violence: Safer teens – safer schools
Successful Teen Living: Healthy teens – safe teens
Pro-Peer Training: Team building for student leaders
Positive Peer Group Classic: Engaging students to school
Positive Peer Group: Anti-bullying program
Journeys: Helping girls to safely navigate adolescence