Welcome to PSI Español!
At PSI, meeting the needs of our diverse language learners is essential.  Our bilingual department focuses on providing services to meet the needs of our many English Language Learners. Given the large Spanish speaking population in Ohio, we have trained staff that can assist with school-age evaluations, meeting interpretations and translation, consultation, and TESOL services. We are working on expanding our services to include other languages.
Bilingual Services (Spanish)
Psychoeducational Evaluations
Interpretation (verbal) / Translation (paper) services
Consultation
English Language Assessments
Accent Reduction
TESOL services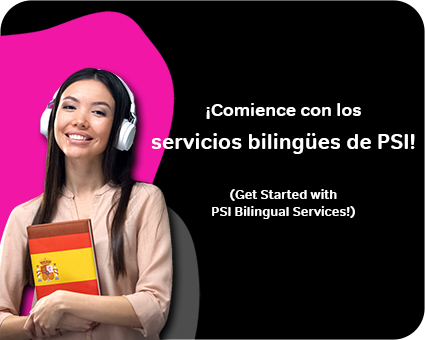 For More Information
Contact Milagros Zavalia, Ed.S, NCSP, for more information about bilingual services. Learn more about Milagros here.
¡
Bienvenidos a PSI Español!
En PSI, es importante apoyar a nuestros estudiantes que tienen el inglés como segundo idioma. Nuestro departamento bilingüe se enfoca en brindar servicios para satisfacer las necesidades de nuestros estudiantes que están aprendiendo inglés. Dada la gran población de habla hispana en Ohio, contamos con personal capacitado que puede ayudar con las evaluaciones de edad escolar, interpretaciones de reuniones y servicios de traducción, consultas y TESOL. Estamos trabajando para expandir nuestros servicios para incluir otros idiomas.
Servicios Bilingües (Español)
Evaluaciones psicoeducativas
Servicios de interpretación (verbal) / traducción (papel)
Consultas
Evaluaciones del idioma inglés
Reducción de acento
Servicios de TESOL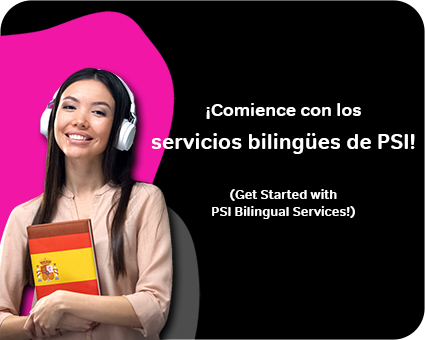 Para más información
Comuníquese con Milagros Zavalia, Ed.S, NCSP, para obtener más información sobre los servicios bilingües. Conoce más sobre Milagros aquí.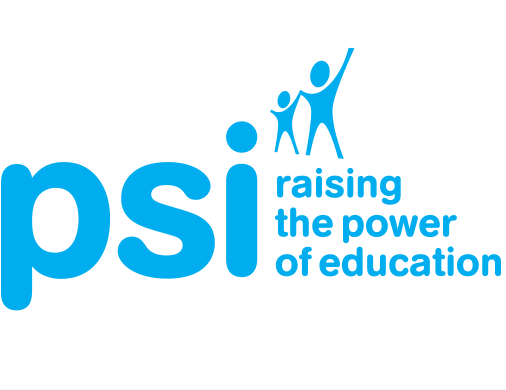 Contact Us
Toll Free: (800) 841-4PSI (4774)
Main Phone: (330) 425-8474
Fax: (330) 425-2905
Corporate Office:
2112 Case Parkway, South, Unit 10
Twinsburg, OH 44087-2378