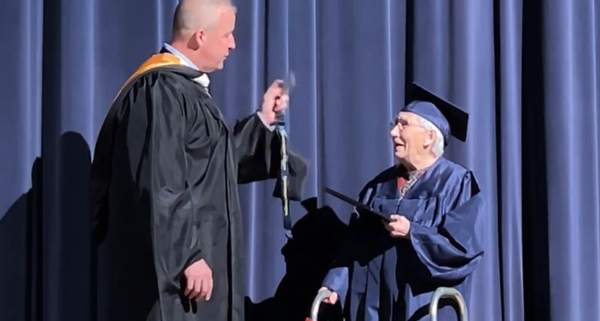 At age 100, Pearl Neumann knows it's never too late to accomplish your goals and earn a high school diploma. In her sophomore year, Neumann dropped out of Spencerport High School in New York to help on the family farm. She went on to be active in the community, helping others, but she never lost her desire to graduate.
Now she has her diploma.
Spencerport High School celebrated her graduation at a special ceremony in December. Her picture will be included in the class of 2023 composite that will hang in the high school. After leaving high school, Neumann remained in Spencerport, a canal town in Western New York west of Rochester, devoting her life to service. Neumann, who turned 100 last September, now lives in a nursing home and uses a walker to get around. She remains feisty and in strong voice.
"I'm proud of what I did. I'd do it all again in a minute if I had the ability to do it and the health to do it," Neumann said during the ceremony.
Sean McCabe, principal at Spencerport High School, said he found her efforts humbling.
"It's a life that was centered on family and on service to others and service to the community," McCabe said. "I certainly would say that everything that you have accomplished in your life has well exceeded anything associated with graduating from high school."
Over time, Neumann was active in local 4-H and volunteer service, worked several years with the local ambulance and helped families emigrating from Germany to get established in the United States.
"It makes you feel good all over. You're not only helping somebody else, but you're also helping yourself to stand on your own two feet and fight for the good old U.S.A."
Her advice to others: Stand up for yourself.
"By golly, stand on your own two feet," she said. "Don't let someone else tell you what to do because they think they know more than you do. Baloney!"
Above – a short video of Pearl Neumann's graduation ceremony.
---
Click here to view the original article from Cleveland.com.
Find out how you can further your knowledge with PSI's training programs.
/wp-content/uploads/Neumann.png
400
600
Greg Dzuris
/wp-content/uploads/2018/02/psi-logo-lg.png
Greg Dzuris
2023-01-24 20:19:56
2023-01-26 01:59:46
Pearl Neumann - AGE 100 - fulfills her goal of earning HS Diploma