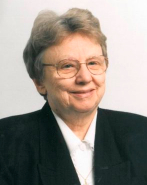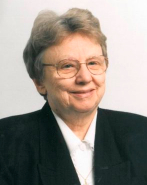 We meet only a few very special people in our journey through life. I met such a lady close to 40 years ago when PSI was in its infancy. Sister M. Bernadette Maier, OSU, is perhaps the most remarkable woman I have met in my four decades of work with educators in Ohio. Certainly schools, and in particular the Catholic Schools, are full of wonderful people who are dedicated to their mission and give their all for the schools and the furtherance of Catholicity.
Sr. Bernadette did all that. In addition, she saw opportunity where there were obstacles, dreams where there were 'roadblocks' and strategies where there were almost insurmountable challenges. The non-public schools throughout Ohio but especially in the Cleveland Diocese, live her legacy every day when children benefit from services paid for by auxiliary services funds. These services didn't just come to be by fiat. They were achieved by dint of hard work, vision, politics and endless blood, sweat and tears. Her stories and accomplishments are as voluminous as they are a study in political triumph.
She became dear to us over the years as we all strove to expand the services she wanted for 'her kids.' She was one of a kind, full of the vim and vigor that all movers and shakers have, changing the systems in which we live. She will live on in our hearts as an ideal to which we all should aspire, a tireless supporter of PSI and a dear, dear friend.
God Bless you Sr. Bernadette.
– Steve Rosenberg, President of PSI
/wp-content/uploads/2016/06/2016-06-14_12-48-26.jpg
185
147
Mike Lyman
/wp-content/uploads/2018/02/psi-logo-lg.png
Mike Lyman
2016-06-14 12:45:48
2016-10-21 09:59:33
In Honor of Sister Bernadette…..