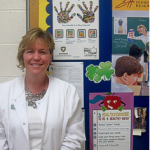 PSI's Lisa Greene, RN, is a busy woman! Working at Roxbury Elementary School in Solon as District Nurse, she oversees a large health team in Solon City Schools.
A typical day would see her as a resource for people who have concerns about the health of students. "If it means going to a school, I go. I check on schools routinely, working in conjunction with the District Officials and the principals of seven schools." Lisa is at the center of a wheel whose spokes include students, teachers, staff, parents, administrators and community leaders.
During the summer of 2010, Lisa and husband Matt were part of a group of 23 that visited Uganda for 2 ½ weeks to establish a free rudimentary health clinic.
Matt, one of the non-medical people on the trip, served as photographer. The clinic was set up in the village of Kabingo, with the news quickly spreading through wordof- mouth.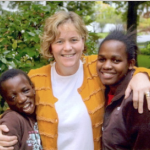 Kabingo is a place with mud houses, very little schooling for children, rampant diseases and health problems, and no running water or electricity. Free medical help was a gift from the skies, with hundreds of people walking all day and then patiently waiting in long lines for their turn.
"One day my eyes locked on Mackline, a 13-year-old girl whose face had been mauled by a wild boar when she was eleven months old. Her first question to me was: 'Could you help me?'"
Lisa did. After over a year, a plan was patched through to get Mackline and an interpreter named Maria passports, visas, and arrangements for four surgeries at Shriner's Hospital in Cincinnati. In the ensuing year, Mackline and Maria lived at the Greene household in Hudson, with Mackline attending East Woods Elementary School as a Special Education student. While growing six inches and gaining 40 pounds, Mackline learned the basics we take for granted: colors, the alphabet, how to read, numbers, even watching television. The Hudson community was fantastic, constantly donating clothes and holiday costumes, with numerous invitations for sleepovers, playdates, birthday parties and holiday celebrations. One family agreed to sponsor Mackline in a private boarding school in Uganda for ten years!
Since returning to Uganda, a new wing has been added to Mackline's private elementary school through charitable donations. "I grew to love this little girl who had so much to offer and give to this world," Lisa adds. "The little outcast became a rainmaker here in Hudson, OH and then in Uganda."
When fully grown, Mackline can return for further surgery at Shriner's Hospital, again at no cost.
These are the kind of wonderful people that both Solon City Schools and PSI hire.  We are proud to be associated with Lisa and the Solon Schools.
/wp-content/uploads/2013/07/ugu.png
584
648
Mike Lyman
/wp-content/uploads/2018/02/psi-logo-lg.png
Mike Lyman
2013-07-27 16:46:13
2013-08-14 20:12:24
An Outcast Becomes a Rainmaker