We Love Our Cleveland Cavaliers!
Good Luck to the Cleveland Cavaliers!
Educational E-mails from PSI
Upcoming Events
Jan
24
Wed
3:00 pm
Cyberbullying Webinar
Cyberbullying Webinar
Jan 24 @ 3:00 pm – 4:00 pm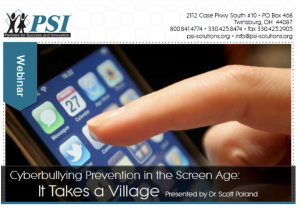 Please Join Us Wednesday, January 24, 2018 3:00 – 4:00 PM EST All PSI webinars are recorded for those who cannot watch live. If you cannot attend, Register Now and you will be notified when[...]
Follow Us!