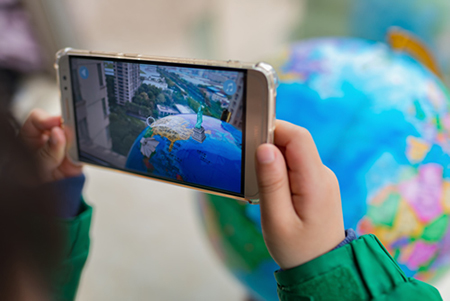 Written by Christine Worthington, Virtualpsi Coordinator and Field Supervisor
Technology…let's ponder that word for a minute…technology. To some, this word is exciting and stirs feelings of future growth and promise. To others, this concept can be frightening and intimidating.
Currently, in our field, technology is often considered synonymous with teletherapy. However, I have come to notice that technology is not just related to teletherapy, but is integral to both in-person and online services. So, what are the future trends of technology and telehealth, and how will technology impact our field going forward?
It's no secret that teletherapy has experienced significant growth and support since March 2020, and this upward trend is expected to continue. This growth will bring increasingly more technology into our homes, therapy rooms, research and work settings every day. Interestingly, many SLPs are recognizing that the technology being used during virtual instruction can also be used during in-person sessions with excellent outcomes. Teletherapy resources can be brought to the in-person therapy rooms and used efficiently and effectively. For example, the current use of iPads and tablets during in-person sessions has afforded the overburdened SLP with easy to use, portable material. A variety of apps can be utilized to address many therapeutic needs and treatments from early intervention to adults. Additionally, digital downloads of games and interactive instructional resources are just a click away.
The growth of technology does not stop with online platforms, iPads, tablets, or interactive therapeutic resources. The advancement of technology in our field can also be witnessed through 3D printing, virtual reality, and artificial intelligence. 3D printing can be utilized to create lifelike images such as hearing aids and artificial larynxes, and help students visualize articulatory movements with 3D animations. New products, such as TikTalk, use artificial Intelligence (AI) to promote accuracy and provide SLPs with new tools to promote home practice and consistency.
The applications are endless and the clinician just needs to imagine how this technology can positively impact their work. Virtual reality and artificial intelligence are not quite impacting our field yet, but discussions are occurring to imagine how these technologies can be used and implemented in research and education. Technology does not need to intimidate or create a sense of uncertainty. Embrace the concept and allow the mind to imagine the future of our field with all these amazing new trends at our fingertips.
/wp-content/uploads/ARclasstech.jpg
301
450
Greg Dzuris
/wp-content/uploads/2018/02/psi-logo-lg.png
Greg Dzuris
2021-06-18 18:20:00
2021-06-18 18:22:59
Technology…What Does the Future Hold for our Field?