Local Schools are bringing nationally ranked care to its students & staff
School-Based Telehealth allows University Hospitals Rainbow Babies & Children's clinicians to provide services to students & staff at their school. PSI, the Official School Health Services Partner of UH Rainbow,  facilitates the on-site visit, connecting students & staff to the health care provider.  Additional benefits and features of School-Based Telehealth include:
What is a School-Based Telehealth Center?
A School-Based Telehealth Center allows PSI & University Hospitals to bring healthcare services, that would traditionally take place in an office, to school.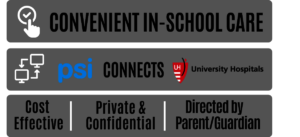 Who participates in a School-Based Telehealth visit?
Individuals, such as the PSI District Nurse, the UH Medical Provider, the student, and the student's parent(s)/guardian(s) will participate.
Who makes the determination if a Telehealth visit is justified for a student?
The PSI District Nurse conducts a brief triage to determine if the patient qualifies for a telehealth visit according to UH and District approved protocols. Only students with signed parent/guardian consent will see a UH Medical Provider.
Watch this video to find out exactly how School-Based Telehealth Centers work!
How does the medical provider interact with my child?
A medical provider from University Hospitals examines your child with the assistance of the PSI school health team. Computers and monitors are used so that patients and providers can see each other, talk clearly, and share information. At times special equipment, known as peripheral devices, like an electronic otoscope, are used to assist providers in assessment & diagnosis.