Miss the PSI Reading Webinar? No Worries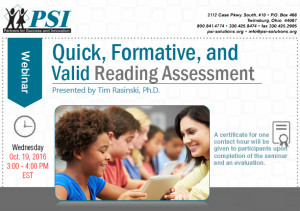 The PSI Reading Webinar is now available on-demand.
Effective reading instruction and reading intervention require teachers to monitor students' progress. Moreover, diagnosing reading problems requires teachers to isolate and assess reading competencies that are causing difficulties in reading.
The problem with many current reading assessments is that they are often long and involved processes or examine only one area of reading.  In this webinar, Dr.Timothy Rasinski will presented a simple yet valid approach to reading assessment, diagnosis and progress monitoring that takes a minimal amount of time.  Audience members will leave the session with actionable insights and process for assessing their own students' reading.