Calendar
Nov
8
Wed
PSI School Security Webinar
Nov 8 @ 3:00 pm – 4:00 pm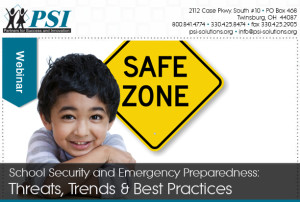 As school safety issues increasingly move from the schoolhouse to the courthouses and courts of public opinion, school leaders need to be able to distinguish fads and fiction from facts and best practices. School administrators, crisis teams, and school safety professionals must base safety and emergency preparedness decisions on best practices and reasonableness for preK-12 school settings. This webinar will strengthen participant abilities to:
Identify current and emerging school security threats.
Discuss current trends and shifts in school safety leadership at the schoolhouse, courthouse, and court of public opinion levels.
List practical, cost-effective, and reasonable school security and emergency preparedness best practices.